For many of us, grandparents are very important people in our lives. If we're lucky, they're there when we're growing up and can have a strong and positive influence in our lives.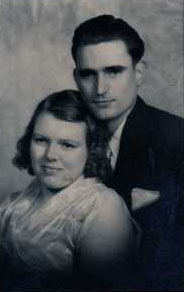 I was fortunate to have my mother's parents in my life almost constantly while growing up. Mom was a struggling single parent with four kids and the five of us lived with our grandparents until I was in the fifth grade.
Although grampa was still working when I was growing up, because we lived in the same home he was my only real father figure. As most people have with their father, I have many fond memories of time with my grandfather. I remember the first time he took me fishing; it was at a trout farm and I was so proud of the little fish I brought home!
The first memory I have of getting a haircut at a barber shop was with grampa; even though the barbers there all knew him, they thought we were father and son thanks to delayed graying of the hair (thanks for those genes, grampa!)
I remember helping mom and grampa overhaul the engine in mom's car. I couldn't have been more than seven at the time but I was right in there helping and getting dirty. I think that was the first time I learned about tightening valve cover bolts in a specific sequence with a torque wrench. I guess I learned my "do-it-yourself" attitude from him.
I only remember getting spanked by grampa one time (I was more likely to get a whooping from mom or gramma; they were also do-it-yourself women and didn't wait until grampa got home.) It was during the summer between fourth and fifth grade; I had been out all day with my best friend at the time, not an unusual event for a nice summer day, except that I came home way past dark so everyone was frantic worrying about me.
This was in the days before Amber Alerts and "stranger danger" and I often would be out all day when the weather was nice, which wasn't all that often in our Seattle suburb of Kirkland. There were only a few rules and one of them was to be home in time for dinner, and certainly before dark.
I remember grampa telling me, before taking me over his knee, that this would hurt him more than it would me. Even at that age, I knew he meant it because my grandfather was a man of few words and he didn't say things he didn't mean.
Throughout my early childhood and into my teens, my grandparents, mom and all my aunts, uncles and cousins would go camping at least once every summer. Our "tribe" would take over two or three camping spots and it would be like one big family reunion in the woods, complete with hiking, fishing and various games.
My grandfather, Everett Sheppard Kendrick, was born August 20, 1912 in Hillyard, Washington (now a part of Spokane). The second of three children of Joseph Edward Kendrick and Edith Clara Sheppard, his grandparents had brought their families to eastern Washington from Illinois (Kendrick) and Minnesota (Sheppard) in the early 1890's to take advantage of the Homestead Act after Washington became a state in 1889.
Descended primarily from hardy Irish, Scottish, Welsh and English immigrant farming stock, grampa's family farmed from their home just outside of Reardan, Washington, a small town just west of Spokane. Like many kids, I remember hearing about grampa having to walk a mile to school in the driving snow, but after a visit to Reardan in the 1990s, grampa had to finally admit it was uphill only one way!
Grampa has lived through a lot during his lifetime; he survived the 1918 flu pandemic which took one of his uncles or cousins along with an estimated 50 million others all over the world.
As a teenager, he was blinded in his right eye because he was playing with blasting caps when one went off and caused a sliver to lodge in his eye. (This kept him from being drafted into the military during the war.) For those wondering, back then you could buy dynamite at the local hardware store when you needed to blow up some stumps, and of course you need blasting caps to set off the dynamite.
Grampa lived through the Great Depression of the 1930's and became one of the millions of young men who worked in the Civilian Conservation Corps (CCC), a New Deal program instituted during the FDR administration.
An inefficient government make-work program, nevertheless the CCC gave many young men a way to earn a living for their family and keep them off the streets and out of gangs. Grampa always spoke fondly of his three years with the CCC. The CCC eventually became the Works Progress Administration (WPA) or as he recently shared with us; their name for it at the time was "We Putter Around".
In August 1937, a few months after leaving the CCC, he married Eva Ruth Manning, the love of his life. They were together for 58 years until he lost her to cancer in 1995.
In 1949, when mom was about ten years old, grampa contracted Tuberculosis (TB), an oftentimes fatal disease at the time. Because of the infectious nature of TB (it's transmitted through the air via coughing) he was confined to a sanatorium where many of his fellow TB sufferers died of the disease.
After surviving TB grampa had an opportunity to attend a trade school where he learned land surveying and eventually got a job surveying for the Washington Fisheries Department and then the Department of Transportation where he worked on the new Interstate Highway System, primarily I-5 in Washington before retiring in the mid-1970s.
A devout Christian, grampa has been an elder in his church since the 1960s and was loved by all who came to know him.
In his 80's, grampa was diagnosed with diabetes but that didn't slow him down either. With farming in his blood, I've never known my grandfather to not have a garden; I think he was working in his garden the day before he was taken to the hospital.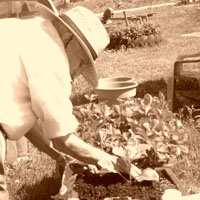 He told the family several years ago that it was his goal to live at least as long as his father who had died just four weeks shy of his 97th birthday. On August 20, 2010, grampa had his 98th birthday. Since he and mom moved to Burkesville, Kentucky in the late 1990s, I drove the 900+ miles from Minneapolis and arrived in time to wish him a happy 98th birthday.
It was touch and go for a while, but he really started to perk up the weekend I was there. I know he was glad that I was there, as was I; I hadn't seen him in a few years and it was weighing heavy on my mind. There were also a lot of friends from his church who stopped by from time to time and he carried on as if he was sitting in his own living room, not a day over 90!
By the time I headed back to Minnesota, I half expected (and hoped for) him to be headed back home within a few days; but it was not to be. We lost grampa on September 1st. He maintained full control of his mental capacities until the last few hours of his life. Surrounded by friends and family to the end, this is the way I think I would prefer to go when it's my time.
Although the loss is painful, I'm comforted knowing that he's with gramma now and is no longer suffering. When I got the phone call that I was dreading, I took a few minutes to say a prayer for him and to thank God for allowing me to be able to travel to see him before the end.
I have written this tribute to my grandfather from my perspective, but I know my sisters and my cousins must all have their own version of this story because grampa didn't play favorites. We were all close to him because he was close to all of us.
My wish is to be a good grandfather to my grandchildren, the way my grandfather was for me. Oh, and it's my goal to live to be at least 98, just like my grandfather; my hero.