Prism Enterprises has launched a new website project: Snow Plowing Twin Cities.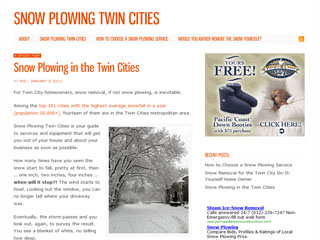 Snow Plowing Twin Cities is expected to be the first of many websites that will provide information on a variety of retail outlets and service industries in the local Twin City metropolitan area, and is expected to help home owners choose local service businesses that can best meet their needs.
The website is fully optimized for the search engines for both the local market as well as it's important keywords relating to snow plowing and snow removal in the Twin Cities.
This new website is part of a project in partnership with Dennis Holman of Advertising in Depth (AiD). Prism and AiD will work together to develop and optimize websites for specific service niches within the Minneapolis and Saint Paul, Minnesota area.
Since we are at the height of the winter season in Minnesota, snow removal will be our initial focus. The first site was kicked off with helpful articles such as; How to Choose a Snow Plowing Service and Snow Removal for the Twin City Do-It-Yourself Home Owner.
If you are a home owner in the Minneapolis and Saint Paul, Minnesota area, or anywhere that gets a lot of snow (most of North America this year it seems), check out the helpful articles at Snow Plowing Twin Cities.
Then come back and let me know what you think of the new website in the comments area below.

P.S.; if you are a business owner and are interested in developing a website like this, let me know.