Two weeks ago, on January 12th, I announced that the previous week I had launched the new website; Snow Plowing Twin Cities. This website is part of a joint venture between Prism Enterprises and Advertising in Depth.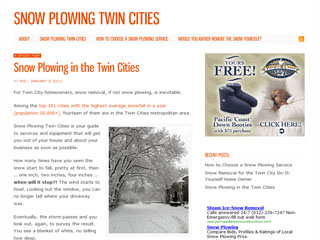 We launched Snow Plowing Twin Cities on January 5th, and as of January 19th, the website is showing up on page one of Google's search engine results page!
Having a brand new website show up anywhere on Google in the first two weeks is incredible; but having it show up on page one? That's awesome!
I'll share more about my joint venture with Advertising in Depth in the near future, but right now I want to share a little about how I've accomplished this.
Search Engine Optimization is a Learned Skill
I've been spending a lot of time over the last couple of months reading everything I could find about search engine optimization. I wrote an article several weeks ago emphasizing the importance of ensuring your blog posts are optimized for the search engines.
In that article, I touched on the differences between organic search results versus paid search results and linked to one of the many articles I had found that talked about how to optimize your posts. I also mentioned some of the tools I use to optimized websites.
When I launched my first website in 2005, it was months before it would show up in a Google search and several more months before any of the pages would show up on page one. I knew very little about search engine optimization (SEO) back then.
I understood a few things about SEO in 2005, but I didn't know many of the finer details and Google keeps changing their algorithms as they learn more about how and why people search for things online, not to mention changes made to thwart the scammers and SEO short cutters.
By the time I started launching WordPress based blog websites in 2009, I had a pretty good understanding of SEO and I applied this knowledge to the websites I started launching that year.
I was amazed when blog posts from websites I had optimized started showing up in Google searches within a matter of days, then within hours, and finally, within minutes of posting them!
The time between posting an article and seeing it show up in a Google search grew shorter and shorter as I began applying more and more of the techniques I'd been learning. Of course, one of the things that affects a website's ranking with Google is how long the website has existed; the longer the website has been around, the more relevant it is in the Google algorithm.
But even with the results I was getting with my older websites, I was really amazed with the results I've seen since launching Snow Plowing Twin Cities. A little over a week after launching the site, it started showing up on page two of Google searches and I thought that was great.
But a few days later, it hit page one for at least two of the search terms I had optimized the site for:
snow removal tips for twin city homeowners

and

snow plowing twin cities
It's a good feeling when I can see concrete SEO results for the time and effort I have put into my websites and those of my clients.

PS; if you need help optimizing your blog or website for the search engines, let me know.