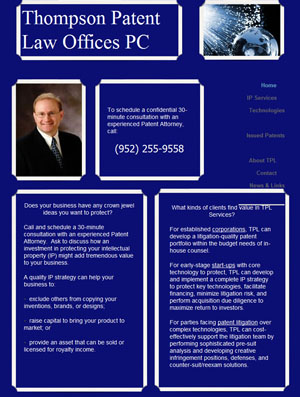 At the end of January, Prism Enterprises launched a new website for Thompson Patent Law Offices PC of Plymouth, Minnesota.
Patent attorney and Thompson Patent Law President Craige Thompson needed a new website for his law firm to replace his existing website.
Like many small businesses, he created a basic website just to have a presence on the internet when he launched his firm.
This initial website served its purpose, but the time had come for something more professional.
Although he wasn't looking for a WordPress blog-based website, when he saw the flexibility available with WordPress as a content management system along with a premium theme from StudioPress, he decided to go that route.
Included in the requirements for the new website for Thompson Patent Law were several static pages:
An About page for the firm
An About page for each key member of the firm
A Testimonials page
A page listing Issued Patents prosecuted by members of the firm
Pages listing and describing the various services of the firm:

Patent Offense (patent prosecution)
Patent Defense (reexamination)
Patent Litigation support
IP Audits
Technical Expertise

A contact page
A page with links to other related and helpful websites
A Sitemap page
We also developed three content categories for articles:
Firm News to post news articles about the firm
Issued Patents to list details of individual patents prosecuted
Published Articles to post articles published in trade journals, etc.
Based on these requirements and the desired appearance of the new website he selected the Genesis Corporate child theme.
The Home Page
For the new website's Home page, there were five key things Thompson Patent Law was looking for:
A dynamic series of images to describe the four stages of the patent process
Feature the Patent Offense and Patent Defense services
Featured articles published by firm staff
Popular articles and pages as ranked by visitor page views
Display a random patent prosecuted by a firm attorney
1. The Patent Process
During our initial consultation, Craige outlined his vision for a series of images that could depict the patent process for an invention.
An invention typically begins with an idea, progresses to a prototype to prove its viability which then necessitates the need to protect this new intellectual property, finally ending with a successfully prosecuted patent and success in the marketplace.
I developed the four images below to tell this story. They are displayed in sequence in a dynamic image display on the home page.
The idea stage

The prototype stage

The patent prosecution stage

The success stage

2. Patent Offense and Patent Defense Services
Because of their importance to an overall patent portfolio strategy Craige wanted to emphasize the two major services that Thompson Patent Law offers: Patent Offense and Patent Defense. 
Using the Featured Page tool available with StudioPress premium themes, both the Patent Offense and Patent Defense pages are featured in the central part of the new website's Home page.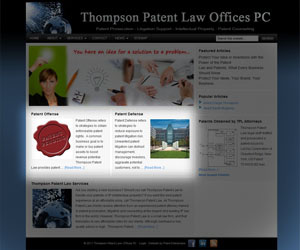 3. Featured Articles
He also wanted to feature articles published in trade journals that had been written by firm staff. I used the Featured Post tool available with StudioPress to display links to articles from the Published Articles category.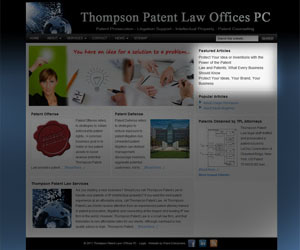 4. Popular Articles
Popular articles is a feature that can be added to any WordPress based website and uses website visitor statistics. This add-on displays the most frequently visited articles and / or pages.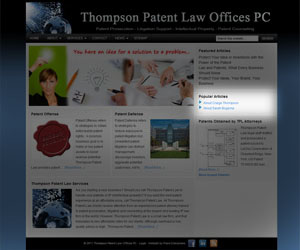 5. Random Patents
Another feature requested was the ability to randomly feature a patent obtained by a firm attorney on behalf of a client. I used the Featured Post tool available with StudioPress premium themes to randomly display an article from the Issued Patents category.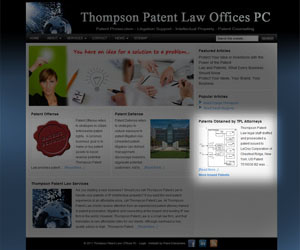 Search Engine Optimization
The StudioPress Genesis theme framework is optimized for search engines as one of its features, including all appropriate fields to enter search engine recognized information about each page and article in the website.
As part of the development process prior to launching the new website, I created over 20 fixed pages and 14 articles. Each page and article is fully search engine optimized.
Search Engine Submission
After launching the new website, it was submitted to the major search engines: Google, Yahoo, Bing and Ask.com. I have also installed a tool that will alert these search engines each time a new page or article is added to the site.
Additional Features
In addition to the design and search engine optimization, a number of additional features were added to the new website.
Social Media Sharing
Each page has buttons that allow visitors to share a link to that page via Facebook, Twitter and other social media outlets as well as via email. This feature helps spread the word about the services available at Thompson Patent Law.

URL Redirects
The new website has a very different URL structure (internet address) than that of the old website. This is due in part to the search engine optimization process implemented. Since other websites may have links to the old URLs, clicking on those links would normally get a "Not Found, Error 404" page.
To avoid this, I have installed a tool that recognizes the old URLs and redirects visitors to the new page with the correct URL.
Additionally if someone types in a page incorrectly, instead of getting a blank page with an error message on it, they'll get a page with a link to every page on the website to help them find what they're looking for.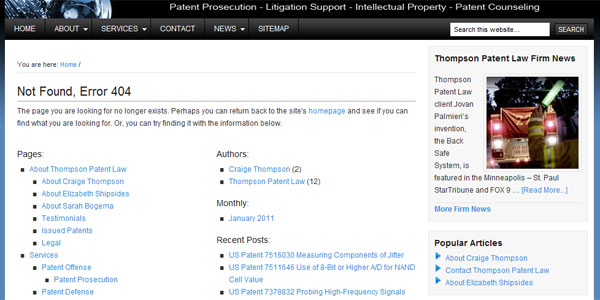 Smartphone Friendly
For anyone visiting the new website through a smartphone such as iPhone or Android, they have the option to switch to a smartphone friendly view that is optimized for these smaller screens.
Related Articles
Another feature available for any WordPress based website is the related posts tool. This tool analyzes the content of an article and compares it with the content of other articles on ThompsonPatentLaw.com and displays links to them at the end of the article.

More for Less
Thompson Patent Law was able to get a new website with more flexibility and capability for significantly less money than what a traditional website design firm would have charged for a traditional static website.
With the training included, Thompson Patent Law staff can update content on existing pages or add new pages without the need to go back to the "webmaster" every time their website content needs to be updated.
If you need a professionally designed WordPress based website, contact me for a consultation.