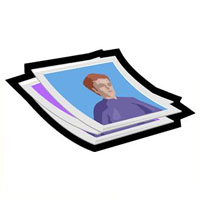 If you read Images in Your Articles; Why You Should Use Them, hopefully you're convinced that images are an important part of each and every article.
You might be wondering where you can get photos and graphics to use as images for your articles. There are several places, paid and unpaid, where you can find just about any image you might need:
Your own photos. The easiest place to find images might be your own camera! Particularly if you write about family-oriented topics such as kids, cooking, crafts, or weight loss, your own photos may be the perfect choice. These days, you can take web-quality photos from inexpensive cameras – and even from your cell phone. The positive: You get exactly what you want. The negative: Sometimes you just want to get the article done, not take time for a photo shoot.
Flickr. Flickr.com is home to millions of images from all over the world. You can search by topic or by photographer. To stay on the right side of copyright law, search Flickr's creative commons database which includes images that photographers are making available for use. Check out the guidelines at www.flickr.com/creativecommons/ for full information on the rights photographers are retaining and the usage requirements.
Stock.XCHNG. Stock.XCHNG (http://www.sxc.hu/) is a free stock photo site. Create an account and use one of their 400,000 images on your blog. Stock.XCHNG is a little more limited than Flickr, but generally high quality.
Clipart.com. For the widest variety of images (illustrations, photos, animations, and more), check out Clipart.com. Over 10 million files, all high-quality. It's also a paid service with subscriptions starting at $14.95 for a week of unlimited downloads and topping out at $299.95 for two years of full access.
IstockPhoto.com. A large collection of professional and business quality images and illustrations are available from iStockPhoto.com. The drawback is that it is a paid service that works on credits. You can purchase credit plans starting with 12 credits for $18.50 or a subscription starting at $108/month.
Fotolia.com. This is also a paid service and is the one I use. Fotolia.com also has a large collection of professional and business quality images, illustrations and videos.
If you've looked through the above choices and still can't find something you like, there are numerous other options. Just Google "copyright free images" and you'll have more options than you can ever use.