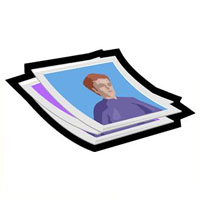 Just like everything else online, using images in your articles is fairly easy, but it's also easy to make a mistake. Here are some of the most common image-related mistakes and how to avoid them:
Not Using an Image
It's better to use a generic image than no image at all if you can't find the specific photo or graphic you want. Even if the image doesn't directly support the text of the blog post, it still provides the benefits of breaking up text and pulling people in.
Using Goofy Clip Art
We used to see stick people all over PowerPoint presentations and in corporate newsletters in the early days of the web. With the wide variety of high-quality graphics available online for free, there's no excuse for using 1990s-era clip art. It makes you look unprofessional, not retro.
Using Unrelated Images
If I see one more sidebar ad with a bikini-clad woman and the words "Obama wants moms to go back to school," I am going to scream! Sure, people may look because there's a good looking babe, but using unrelated graphics to pull people in is rude. They won't stick around once they know they've been misled.
Not Resizing the Image
While images can make your article looked polished and professional, having images that hang over into the margins or that are cut off is sloppy. Use a free software program or, if you're on a Mac, your preview tool, to resize the image to the right proportions.
Stealing Someone Else's Images
There are so many places that you can get non-copyrighted images, there's no excuse for stealing someone's copyrighted work. Many photographers and illustrators rely on their work for their livelihood; don't get yourself in hot water by usurping their stuff.
Using Too Many Images
Yes, it is possible to overdo it on the photos and illustrations. Make sure each graphic you use adds to the quality of the overall blog post. If you don't need it, don't use it.
Using Images Your Audience Cannot Relate To
Just as the bikini woman is probably not a great draw when trying to reach middle-aged moms, you can easily miss the mark with graphics and photos if you don't know who you're writing for. This is where knowledge of your market is critical; know what they want, and give it to them.
If you're worried about using images properly, just start slow. Begin by using your own photos so you don't have to worry about copyright issues, and practice resizing, uploading, and tagging. You'll soon be ready to take on bigger challenges, and your blog will thrive as a result of your efforts.