One helpful feature in Twitter is the ability to make a List. You can add those you follow to a list so that you can see all related tweets at once. Think of it as a customized timeline.
Ideas for lists to create would be Family, Friends, Clients, Financial, Internet Marketing, Affiliate Marketing, Vendors, etc.
If you've been using Twitter to promote your website for any length of time, you know that Twitter's interface has been going through a transition recently.
Here's how you can create lists in the new version compared to the old version of Twitter:
Old Twitter:
To create a list in the old version of Twitter, you would click on New List in the Lists section on the right side. Once you have created one or more lists, they will appear above where you create a new one so you can easily access them.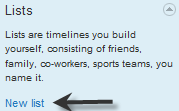 New Twitter:
In the new version, click on the dropdown arrow beside Lists and then click on Create a list.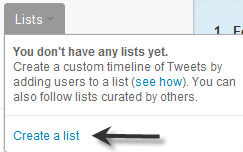 The process of actually creating your list is essentially the same in Old and New Twitter. Assign your list a Name and Description then choose whether you want it to be Public or Private. When finished completing this screen, click on Save List.
Once you've created your list, you can add people by searching for them:
Or just go to your follower list and find the people you want to add. Just click the icon on the far right and you can select to add the person to any of your lists.

Once your list is complete, you can click on it to see the tweets of those just on your list. This will allow you to narrow your focus to just one area of interest at a time.

PS; Don't forget to follow @PrismEnterprise on Twitter!