Most WordPress updates just fix minor bugs, and the recent upgrade from version 2.8.x to 2.9.x does that, but there are some new features and enhancements with this update.
I won't bore you with details of all of the new features (it would fill several pages) but there are three new features that potentially affect you, although not in a bad way.
Trash status for posts, pages and comments (includes restore and permanent delete)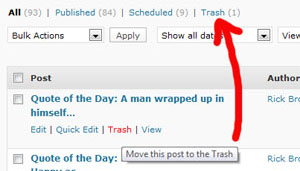 In place of Delete, which had no undo option, the new Trash feature, which works similar to the Windows Recycle Bin, allows you to Trash a post, page, or comment .
Once in the Trash, you can either Restore it if you change your mind or Delete Permanently if you no longer want to keep it.
Previously, you only had the option to permanently delete a post, page, or comment with no undo option. The Trash option is still not available for images, though.
Now you can remove posts, pages, or comments from their respective lists and still have the option to restore them if you later realize you made a mistake.
Image Editing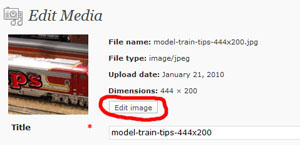 Your Media Library now has an image editing feature. This feature is available for each image in your Media Library and is accessed by clicking on the Edit Image button in the Edit Media panel. It's also available immediately after uploading an image to your Media Library.
This new feature should greatly expand your ability to manage images in the Media Library by giving you the ability to crop, rotate and flip your images after you upload them to the Media Library.
Since I do all my image editing in Photoshop before I upload them, I haven't tested this feature yet. I advise you to use these image editing features only on new images after you upload them to your Media Library, that way you don't run the risk of affecting images currently being used in posts.
After I have chance to play around with this new feature, I'll add detail for using this feature to my tutorial Managing Your Blog's Media Library (distributed to Prism Enterprise clients.)
Get Shortlink


There is now a Get Shortlink button next to the Permalink Edit button for blog posts and pages.
When you click on the Get Shortlink button, a dialog box pops up with a shortlink for you to use.
A shortlink is created by a service that shortens URLs for use in Twitter tweets (which are limited to 140 characters) or anywhere else you want to use a short URL (http://wp.me/pEg98-85) instead of the full URL (http://www.prism-ent.com/news/new-features-in-wordpress-version-2-9-x/)
To use the shortlink, just copy the URL from the dialog box and click OK. Then paste the URL in your Twitter tweet or where ever you need a shortened URL. (Note: most Prism client's blog posts – including this one – utilize bookmarks for the most popular social networking sites at the end of every post. The Twitter bookmark even creates a shortened URL for you!)