Darren Rowse, co-author of ProBlogger, has announced last week via email, Twitter and Facebook that they have released an updated version of their popular book. Beginning today, May 3rd, it's available at Amazon.com.
In his Facebook announcement, he stated: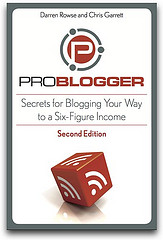 Today I'm pleased to announce the launch of the 2nd Edition of ProBlogger the Book! It's a book designed to help you take your blog to the next level – so make sure you grab a copy today at http://amzn.to/9oEHI1
Chris Garrett and myself put together the first edition of ProBlogger the book back in 2008 with the goal of putting together a resource for bloggers that would walk them through many of the aspects of setting up and growing of a profitable new blog.
Between us we'd written literally thousands of tips and tutorials on our blogs about blogging – but a book put the best of them together in a logical order and in a way that a blogger could take and set up a blog.
Since that time it's been used by many many thousands of bloggers.
Time for an Updated Edition
However 2 years is a long time in blogging and so it was time for an updated version – hence when Wiley asked us to do a 2nd edition we were only too pleased to do so.
This is an update of the 1st edition and not a complete rewrite – however there are a few significant updates including:
* there have been many many small updates and changes throughout the book. New examples, screenshots, updates of new tools, a few deletions of references to old tools, an update to our stories in the intro etc.
* we've removed a chapter on blog networks – things have changed a lot in this space and many networks are not hiring any more or have changed their models significantly.
* Chris has added a significant chapter on social media and how it impacts and can be used by bloggers
* I have added a case study chapter that goes through the first 4 years of my main blog – Digital Photography School. I work through how I launched it, what I focused upon in years 1-2 and then in years 3-4, how I monetize it and share the secrets to how I drive significant traffic and income through email newsletters, social media etc.
* Bonuses – we're offering anyone who buys the book a series of bonuses (some interviews with successful bloggers, some extra teaching etc)
** Grab Your Copy directly at Amazon at http://amzn.to/9oEHI1
The update brings the book into the new decade and we're excited to see people's reactions to it.
If you're going to grab your copy – make sure you do so today because when the first edition was released it sold out pretty quickly and it was a week or two before more copies were available! Amazon have it on sale at 34% off.
You can save $8.50 by getting your copy of ProBlogger – Secrets for Blogging Your Way to a Six-Figure Income at Amazon.com or you can save $15.00 by getting the Amazon Kindle version; that's how I'm getting mine because now you can get free Kindle reader sofftware for the PC, MAC, iPhone, Blackberry and iPad!
Since I have just installed the Kindle reader software on my PC and iPhone, this will be my first Kindle purchase so I'll share with you later how it goes.