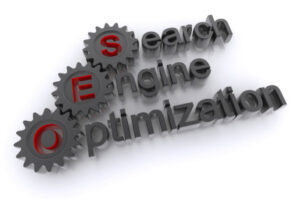 If you're using your blog website to promote or sell your service or product, you want your website's pages to show up on page one of a SERP (Search Engine Results Page) and ideally in the top three organic search results.
Anyone with an unlimited budget can buy their way to the top in the paid search results, but most of us don't have a lot of money to throw at advertising, not to mention the time it takes to become proficient at PPC (Pay Per Click) marketing.
Organic Search Results vs. Paid Search Results
What's the difference between organic and paid search? Paid search results are those results, or ads, that show up either on the right side or at the top of the organic search results as shown in the image below.
Where you show up in the paid search results is determined by a number of factors, including how much you're willing to pay (bid) for each click, the relevancy of your ad to the search terms and the page ranking that the search engine assigns to your page.  Your page ranking is directly related to how optimized your page is from the search engine's point of view. This is what SEO (Search Engine Optimization) is all about.
Organic search results appear in the main part of the SERP. The position of each result is determined by some of the same factors as the PPC ads, with the exception of bidding on position. Other than paying someone to optimize your pages, you can't "buy" your way to the top in organic search results.
Your Pages Must be Optimized for Relevant Search Terms
In order to get a high ranking on the SERPs, your blog pages must be optimized for the search terms relevant to that page of your blog. For example, one of my clients, Sweet Vette's Desserts, specializes in selling her home-made desserts. Vette posted an article a couple of days before I wrote this to announce she is having a pie sale for the Thanksgiving holiday.
The title of her article is "Pie Sale at Sweet Vettes". When I type in the search term pie sale sweet vettes in Google, her article shows up in the #1 position! The home page for her website shows up in position #2 and two other pages of her website show up in positions #3 and #4! See the screen shot below.
The reason Vette's pages came up is because they are optimized for the search term I typed into Google. Something to keep in mind is that the search term I entered is not a very competitive keyword phrase; had I just entered pie sale I would have gotten page after page of big name websites that are having pie sales. It's just not practical to compete with these broad search terms in most cases.
But that's OK, because you want to make sure you're optimized for your specific niche and the subject of your article. Searching for the article you're reading right now would be tough because the topic of this article is very competitive in the search engines, however.
In the above example, if you were already a customer of Sweet Vette's Desserts and heard she was having a pie sale, wouldn't you type pie sale sweet vettes or something similar? When you use a search engine, aren't you looking for something specific?
Pages of a non-optimized website can take weeks or even months to show up in a Google search; on page five! Or worse; page 42. And who looks there? You want to show up on page one, but if you don't apply SEO, your website may never show up on page one for anything except the most obscure search term! (Even a blind squirrel finds an acorn once in awhile.)
When I set up Sweet Vette's Desserts, as I do for all of my client websites, I configure WordPress' various settings as well as install and configure several applications (plugins) to ensure the search engines know that website exists; I also make sure the search engines know every time an article is posted.  I always get excited when I search for a new article a few minutes after I post it and find it already listed in the SERP; sometimes in the #1 position!
Once the website is up and running, I help new clients understand how to use the tools I've added to help ensure each of their articles are optimized for the search engines. Of course, it's an ongoing process because the search engines are constantly tweaking.
Six Ways to Optimize Your Pages for the Search Engines
One of the ways I keep on top of the latest ideas and techniques for SEO is by reading what the experts in the field are doing. One of those experts I follow, Jim Lodico at Social Media Examiner, recently wrote an article titled 6 Ways to Optimize Your Blog for Search Engines which emphasizes six areas to help get your blog highly ranked on Google.
The six areas covered on Jim's article:
Start with Quality Content
Determine Targeted Keywords
Write Stong Meta Titles and Descriptions
Analyze and Revise
Internal and External Links
Optimize the URL
Jim also recommends several helpful tools such as Google Wheels, premium WordPress themes like Thesis or StudioPress, the All in One SEO Pack plugin, Scribe SEO and others. Prism clients already have a StudioPress theme as part of their website, unless they chose to supply their own theme. I also install the All in One SEO Pack as part of my initial setup unless it's not needed by the theme such as some StudioPress Genesis Theme Framework themes.
I've just started to use the Scribe SEO tool on my own websites and will write a review after I've had a chance to evaluate it for a few weeks.
Do you need help with optimizing your blog for the search engines? If so, let me know.