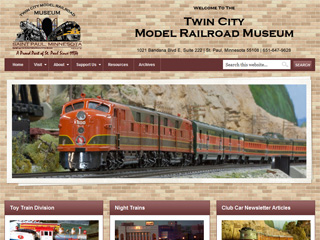 In August I announced that I had been tapped to develop and manage a new website for the Twin City Model Railroad Museum. On Thursday, December 9th the new website was launched.
The new WordPress-based website is based on the Outreach theme, one of the Genesis framework child themes available from StudioPress.
Search Engine Optimized
The new website is fully search engine optimized using the Genesis framework built in SEO (search engine optimization) features as well as the All in One SEO Pack plugin.
Easy to Use Navigation
The navigation menu in the new design is more comprehensive than the old site, with more depth. It's now easier to add pages as the museum adds more displays.
Integrated Blog
Articles about current and upcoming events at the museum can be added to the website as blog articles, allowing them to automatically be included in the museum's monthly newsletter to the public. Now, volunteers that like to write but don't know anything about managing a website can, with very little training, post their own articles to the website.
Social Media Interactive
The new site is fully integrated with social media so visitors can share any page or article with their Facebook friends, Tweet a link to any page, Digg, email, and the list goes on.
Virtually every social media site is supported. Visitors can even use the PrintFriendly feature to make any page printer-friendly or even convert it to a PDF.
Smart Phone Friendly
The museum's new site has the added feature (as does this site) of a smart phone enabled theme that is optimized for viewing on the iPhone, Android, or other smart phone.
More Flexibility
Overall, the new website is more flexible for the museum to manage as well as more user friendly for visitors. Check out the Twin City Model Railroad Museum's new website and see what you think. Then drop back over here and leave a comment below about your impressions.
And if you see anything we may have overlooked, I'd love to hear your input.
Rick